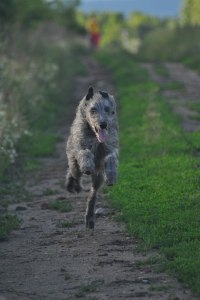 Maria (Mia) and Åke are both from Sweden and have two children Victor and Louise. We live in a house with a large garden outside Västerås in Sweden

We have both grown up having dogs in our respective families. In Åke's family we had hunting dogs "Hamiltonstövare". Mia got her first own dog when she was eleven years old. It was a dachshound. Even at that age she wanted to have a Deerhound but her father considered them to be too big for her so she had to wait 14.5 years until her dachshound bitch Katzi died.
That was in May 1992. At that time she had met Åke and we started at once to look for deerhound puppies available for sale. It was not easy but finally we came in contact with Ragnhild Oppegaard kennel Carduus in Norway.
She had a litter of 8 and we were lucky to get the last one, a male, who was born one day before Katzi died. We picked him up at the Skokloster Summer Show, where Liv Vogt-Johansen (kennel Troon) had been so kind to transport him. We gave him the name Fergus.
In 2001 we started our breeding with the bitch CH Manticorns Denise. She had 2 litters and we
have later used one bitch from each Litter, (Applecross and Moonshell) to continue our breeding.