We love our deerhounds and they love us.

Our goals while breeding deerhounds is to breed beautiful healthy but at the same time also functional deerhounds. With functional we mean that they should be able to do the job they were originally bred for and that is to hunt deer.

Today it is not allowed to hunt deer with deerhounds and the only have chance we have to let them at least come close to hunting is to let them do lurecoursing. Most deerhounds love lurecoursing and it is a pleasure for us to see how exaggerated they are when they do the lurecoursing. To be able to do that you need functional deerhounds and they should be in good condition to be able to do this properly.

Deerhounds should also be beautiful and our main goal is to breed deerhounds that are close to the Breed standard. They shall not be bred for just being on dog shows.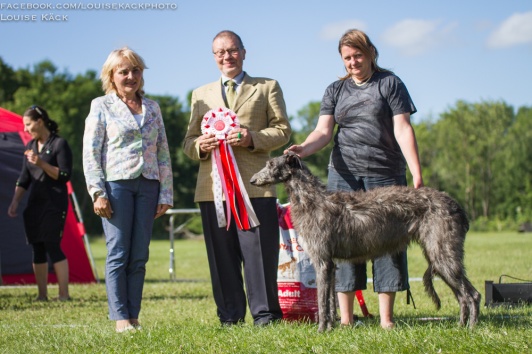 Site was last updated September 22nd 2019

Don't forget to look at our facebook page. You find it by clicking HERE
September 21 2019
We did some major updates on the website

February 9 2017
Alice is pregnant with 8-10 puppies. See Litters for photos

January 11 2017
Alice was mated 11th January 2017. See planned litters.

July 8 2016
Grayrory's Finlaggan "Biffen" died very suddenly after having Anaplasma and pneumonia.

June 8 2016
Norwegian Deerhound Speciality :
Grayrory's Finlaggan "Biffen" was Best in Show and also won the best movements.
BIS-5 and Best bitch-3 Grayrory's Grace Owner Dawn Field Karlsrud
BIS Puppy, Grayrory's Heart, Owner Tine Fossberg Norway
Judge Jean Blandford, kennel Flaunden, UK

March 28, 2016
The last puppy Honesty from our H-Litter left for her new home. One puppy Hyacinth will stay with us.

March 12, 2016
Our bitch Glorious became Swedish Show Champion today.

January 6, 2016
One of the male puppies in the H-Litter died today.

January 4, 2016
Daphne Carrie Irater (Daffy) gave birth to 4 males and 4 bitches today. This is our H-Litter. More information to follow under Litters

November 27
Daphne Carrie Irater (Daffy) is pregnant and puppies are expected end of December. If you are interested please contact us.

November 1
Daphne Carrie Irater (Daffy) was mated with Necesse's Arte Et Marte
(Rhombus) on 29th October and 1st November. More information under Litters / Planned litters

Find more news under the "News and Updates" page!